VISIT THESE SITES--THEY SUPPORT OUR CLUB
CLUB SPONSORS
Club sponsors
Brineshrimpdirect.com is a local Utah company that makes quality food for aquarium fish. They also sale brine shrimp eggs and frozen foods.
Mike Dennis is a Utah fish breeder who is always trying to breed something new. Mike has a variety of fish that include africans, discus, apistogramma, gudgeons, rainbows, and killies. Check out his site or arrange a visite to his fish room.
TFH magazine has a lot of information for hobbyists. Check out their website to see what they are about.
Zoo Med will be supporting our club this year by helping to pay for a speaker threw the ACA. They will also be providing some of their great products for club members at the meeting.
Tropical Fish Wholesale is a very large, quality store in Draper, Utah. They have a large variety of fresh and salt water fish. Because of the large number of tanks they have room to bring in rare and unusual fish that other stores seldom carry. They also keep larger quantities of each type of fish so you can find just the one you want.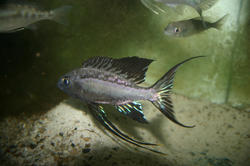 The American Cichlid Association is a great place to get information about cichlids and cichlid conservation. They hold great annual conventions full of speakers and fish exibits.